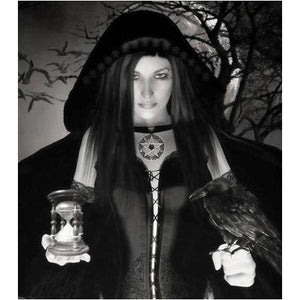 Banish Them, Vanish Them!!
This is not a Spell, this is a Curse
WARNING: This curse (Banish them) is to be directed only against a person who is "intentionally" out to cause you harm. It is not to be used against someone who just happens to be in the wrong place at the wrong time and is unintentionally standing in the way of your happiness.
Banish them with this Powerful Banish Them, Vanish Them Spell.
Is an evil person causing you great pain?
There is nothing worse than knowing someone is out to harm you or destroy you. Even if they are not outwardly threatening you with physical harm, their motives and actions could cause rapid deterioration of your emotional and mental well being, possibly resulting in a meltdown of your physical health.
If this is happening to you, and if you are not doing anything about it, this situation could cause untold havoc in your life and have dramatic long term repercussions. We recommend you take strong action at once!
The first thing you should do!
Decide once and for all if this person is truly your enemy. If so, they should be treated as such.
Remember, you are in their line of fire and you must take immediate and definitive action to counter their evil efforts. If you feel their negative vibrations and you know in your heart they wish you harm, then bad karma and bad luck will continue to plague you.
This must be stopped at once!
Don't let this situation deteriorate any further. Their wrath toward you could be the reason that a dark cloud seems to be hovering over you in every aspect of your life, in everything you do, everywhere you go.
It is time to fight back! Let us cast a Banish Them Spell for you.
It is important for you to understand you can do something about it, and you shouldn't put it off any longer.
The process of casting a Banish Them! Vanish Them! Curse is a time consuming, laborious process, so please request this only if your situation is nearing desperation.
And, remember:
THIS POTENT CURSE - BANISH THEM - SHOULD ONLY BE DIRECTED TOWARD AN EVIL PERSON.
I have extensive experience casting this type of spell.
Trust and you will be granted that person's will.
THIS IS A SPELL CASTING SERVICE! I DO THE BANISH THEM SPELL FOR YOU.
3 Power levels are available for our Banish Them all situations and income levels. The tougher the case, the higher the power level we recommend. All levels are powerful but higher level castings work faster and again, are best for tough cases that other spell castings might have failed or for where you just want the best possible outcome for your Banish them spell.
When you order this Banish Them spell please email us the following to email spellsandpsychics@gmail.com
Your name, date of birth and a photo of yourself.

The name, date of birth and a photo of the person you want us to focus this spell on.

A short description of your situation.
Disclaimer
Please note that the spells we provide are based on psychic abilities and traditional healing. It is not an exact science. As such results may vary. Please note that there are a lot of situations in life that are beyond the realm of our powers. The supernatural works in mysterious ways many-times beyond human understanding. We do not claim to be an ultimate authority that can and will change the destiny of your life.
Customer Reviews
11/27/2022
Raelene K.

Australia
Banish them vanish them spell
Belinda was great. Prompt updates and photos of work. Still waiting for a result and hoping this will eventuate. Interested in purchasing other spells but in two minds due to not seeing any results as yet
11/17/2021
Júlia S.

South Africa
Spell
thank you very much, it was a lovely experience working with you!