Psychic Belinda - Spell Caster and Wiccan
Welcome to Psychic Belinda's Spell Casting website, where you can find a range of love spells and other spells to help you in various areas of your life. As a Professional Spell Caster and Wiccan, Belinda is committed to helping her clients achieve their goals and overcome the challenges they face in life.
Welcome to Psychic Belinda's Spell Casting Services
Professional Spell Caster Belinda provides accurate love spells that have helped numerous people worldwide. Her years of experience and expertise in spell casting enable her to offer reliable and effective love spells that work, including real love spells, obsession spells, break up spells and binding spells.
Love Spells for Every Relationship Need
Besides witchcraft spells and love spells, Belinda can also help you with other types of spell requests, such as weight loss spells, attraction spells, and money spells. Her services are available worldwide, and you can easily order the love spell you need directly from her website.
Enhance Your Life with Additional Spells
Professional Spell Caster Belinda's spell casting services are designed to provide you with the results you desire, and she strives to help you move in a positive direction in life. She believes that everyone deserves love and happiness and is committed to helping you achieve this. With her spell casting services, you will never be alone another night.
Worldwide Spell Casting Services and Easy Online Ordering
Please note that while Professional Spell Caster Belinda can do the spell casting for you, she does not offer guidance on how to cast your own spells. This is because spell casting is not a perfect science and requires years of practice and experience to master. However, Belinda is here to guide you and help you achieve your desired results.
Results-Driven Spell Casting for Positive Change
Professional Spell Caster Belinda's commitment to delivering powerful spell casting services is rooted in her desire to bring positive change to her clients' lives. By focusing on results-driven spell casting, she ensures that each spell is tailored to address specific needs and desires, enhancing the chances of success. Through years of experience and dedication to her craft, Belinda has developed a strong reputation for providing life-changing spells that foster love, happiness, and personal growth. Trust in her expertise and passion for helping others to experience the transformative power of her spell casting services.
Important Note on DIY Spell Casting
To order your love spells online or other spell request, simply visit Belinda's website and use the secure checkout process via credit card or PayPal. Let Belinda help you today and transform your life with her effective love spells.
Easy and Safe Payment Methods when your order your love spells
To ensure a seamless and secure experience when ordering your love spell online or other spell requests, Belinda's website offers user-friendly and protected payment options. Choose between credit card or PayPal transactions to complete your purchase with confidence, knowing that your financial information is safeguarded.
Personalized Spell Casting Consultations
Before selecting a love spell, you may wish to consult with Belinda to determine the most suitable option for your unique situation. Her personalized consultations are designed to understand your needs and goals, ensuring the chosen love spell will provide the best possible outcome.
Confidentiality and Discretion Assured
At Professional Spell Caster Belinda's Spell Casting website, your privacy is of the utmost importance. All personal information and spell requests are treated with complete confidentiality. Belinda is dedicated to providing discreet and professional services to ensure your comfort and trust.
Spell Testimonials from Satisfied Clients
Belinda takes pride in the numerous success stories from her clients who have experienced positive changes in their lives. You can find testimonials and reviews on her website, highlighting the effectiveness of her spell casting services and the happiness they have brought to her clients.
Ongoing Support for Your Journey
Even after your love spell has been cast, Belinda remains committed to your success and well-being. She offers ongoing support, ensuring the spell's effectiveness and helping you navigate any challenges that may arise. You can count on her expertise and guidance every step of the way.
Frequently Asked Questions about our Love Spells
For any questions or concerns regarding spell casting services, visit the Frequently Asked Questions (FAQ) section on Belinda's website. This comprehensive resource addresses common queries, offering insight into the spell casting process and what to expect when working with Belinda.
Embark on a transformative journey with Professional Spell Caster Belinda's spell casting services. Explore the wide range of love spells and other life-enhancing spells available on her website, and take the first step towards a brighter, more fulfilling future.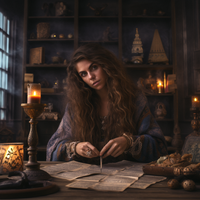 Reviews on love spells
Obsession Spell

I am writing this review two months after my purchase of the Obsession Spell. Firstly, Belinda was incredibly helpful and made me feel at ease. However, I must admit that I initially expected immediate results. It's important to understand that it doesn't work like that; you need to give the universe time to manifest its powers, while maintaining patience and belief. Through this experience, I've come to realize the significance of belief and faith. Belinda executes the Obsession Spell, but it's crucial not to anticipate miracles and to contribute your part responsibly. I'm thrilled to share that, after embracing this mindset, I've witnessed the results of my love spell, and I couldn't be happier. Lesson: TRUST the process!

Christien M
Reconciliation Spell

If you're looking to repair a broken relationship or reconnect with a lost love, the Reconciliation spell is definitely worth considering. This powerful love spell is designed to help heal past wounds and clear the way for a renewed connection with your ex-partner.

I was initially skeptical about trying a love spell, but I was pleasantly surprised by the results. After casting the Reconciliation spell, I noticed a positive shift in my ex's behavior towards me. We started communicating more, and eventually, we were able to work through our differences and rebuild our relationship.

One thing I appreciate about the Reconciliation spell is that it doesn't force anyone to do anything they don't want to do. Instead, it helps to create an energy of forgiveness, healing, and open communication that can lead to a more harmonious relationship.

Overall, I highly recommend the Reconciliation spell to anyone who is seeking to mend a broken relationship or reconnect with a lost love. With its gentle, yet powerful energy, this spell has the potential to transform your love life and bring you closer to the person you care about.

Ashley D.
Weight Loss Spells by Professional Spell Caster Belinda

I struggled with weight loss for years before discovering Spell Caster Belinda's life-changing weight loss spells. Belinda's professionalism and personalized approach exceeded my expectations.

After the weight loss spell was cast, I noticed changes in my cravings and exercise motivation. Within weeks, I shed stubborn pounds, and my confidence soared.

I highly recommend Spell Caster Belinda's weight loss spells for a transformative weight loss experience. Contact her and embrace a healthier, happier life!

MelodieCVD
Exploring the World of Love Spells, Spell Casting and Spell Casters